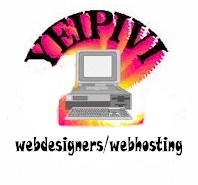 Spanish VersionYEIPIVI HELPING WEB DESIGNERS $30.WWW
Welcome to YeiPiVi Helping Clowns Web Designer., we are here just for help in your business. Our prices are economical for the Small merchants, since we are an organization without profit end, with the alone end of power to help all those persons of scarce resources. If you have Internet access we are able to help you designering and createring custum built web pages and web sites "FrontPages" with prices according to theirs needs.
STUDENTS, now be able to do your "Frontpage" internet Design presence by us from alone $30.00., including one year of free web hosting service. Then the next year just only to pay $15.00 for annual Webhosting service. (Minors of 18 years will have to have autorization of their parents. Fill your request at the end of this page.
If you are a Merchants please visit our Sponsor Prices



Clowns that only want to announce on our States Directory with just leave his Clown name, and phones available for contract. This service is just for $15.00 Dollars a Year
Fill your applications form

CLOWNs, that order his design with us., thoroughly Free will appear in our International Clowns Directory for one year with your own Domain accessed to our HomePages, where you cant announce your business with your photography, poetry or ideas such as your (200 word max) resume or serve for you to share your talents over the world. Our Basic Service Designer start on $80.00 dollars and bring you the oportunity to have your Domain address, where all you clients cand find you with alone to mark:
WWW.CLOWNS-USA.COM/your name.

All clown webdesign made by us, have one year of free hosting service. Then the next year just only pay $30.00 of annual hosting service.
Send a money order or check ready to:
YEIPIVI HELPING CLOWNS WEB DESIGNER
P.O.Box 9263 Plaza Carolina Stations, Carolina, Puerto Rico 00988-9263
Phone (787)-548-8685
All order have to be with your orthography corrections.


FILL THE APPLICATION
To return home page



Click the World