POVITO THE CLOWN
Hello friends, thanks for contact me at the internet., I hope that during all those years of my career, yours remained satisfied with my services. For the respect that I fill to my dealing profession, I increasing every days it to the highest levels.
For the visitors that don't know whos I'am., I much saddens that I am not merchant and dont have the ability of promoting by myself. But alone I can say that in my spectacle as professional Men Orchestra I carry a real Piano., Also my show is with magic acts, scultural ballons and mores.
If wishes you can contract me with my pop corn, cotton candy Machines or Bounce house. For more information and better prices of my show, contact the YIEPIVI Int'l World Parents Club., and to lock in your activity ok., made the official contract at:
PR., (787)-548-8686.,
Request my most recent Latin Children recording here., Or Latin Adults Music, with (Salsa.,Merengue.,Bolero.,Carnaval.,Música Navideña y LosViajes Imaginarios (Chu-Chu Train)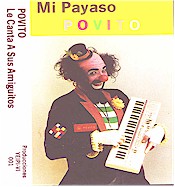 Mail Box.
P.O.Box.9263
Carolina,PR 00988-9263